Member of the Internet Link Exchange
The Ultimate Sabres Ring!

This ring is devoted to Buffalo Sabres lovers. Any web page that has to do with the Sabres is greatly accepted as long as it does not have any:
1. Graphic or
2. Adult content.
Welcome to the Ultimate Buffalo Sabres Web Ring homepage. You can join this webring if you have a Sabres related hockey site.
IMPORTANT
This is what you have to do:
1. Fill out the form below with your correct information.
2. Save, then upload these images (here) to the directory where your Sabres page is located. Remember to keep the same file names. (To save these images: IBM: Right-click on the image then click on Save As.. ; MAC: Click then drag the image onto your desktop, OR Click then hold down, and select Save As.. in the pop-up menu.)
3. You will get an e-mail message with the HTML code needed for the ring. Copy then paste it onto your Sabres page. You just need to make one change, change the PUT_YOUR_NAME_HERE to your full name.
If you have any problems at all, e-mail me: Adam Proctor
Add Your Site To The Ring
Edit Site Information
---
If any artistic Sabres lover out there wants to design graphics for the ring, go ahead and mail it to Me.
Make sure your ring table looks like this:
(Or use this graphics set->)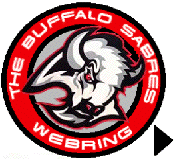 Remember to save with the same file names!!
---
Disclaimer: This page is not affiliated with or endorsed by the Buffalo Sabres Hockey Club, or the National Hockey League in any manner.