Spanish Grand Prix
May 25, 1997 - Circuit de Catalunya - Barcelona, Spain
Michael Schumacher 1996 Winner

Past Winners
95-Schumacher
94-Hill
93-Prost

Villeneuve wins in Spain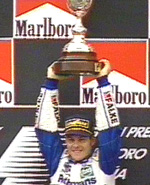 Jacques Villeneuve won his third grand prix of the year and reclaimed the Formula One points lead today when he rolled to an easy victory in the Spanish Grand Prix in Barcelona.
Villeneuve lost the lead for only a moment during the start of the event when Scotsman David Coulthard shot in front heading into the first set of curves, but Villeneuve quickly pushed his Renault-powered Williams racer past his rival and into the lead for good.
Villeneuve led by 15 seconds with just five laps remaining in the 64-lap event, and ran the final circuits less aggressively to win by nearly six seconds over Frenchman Olivier Panis with fellow Frenchman Jean Alesi taking the final podium position.
The victory returns Villeneuve, the pre-season favorite to take the season championship, back to the top of the points table with a three-point lead over Michael Schumacher of Germany. Schumacher, a two-time winner of the series driving championship, brought a four-point lead into the day but finished fourth and dropped three points off the pace of Villeneuve.
Schumacher's finish was good enough to keep Ferrari in the top spot by a point over Williams in the constructor's battle. The teammates of Villeneuve and Schumacher, German Heinz-Harald Frentzen and Britain's Eddie Irvine, respectively, finished out of the top six positions. The event also ended a three race run of podium finishes for Irvine.
Alesi's finish is his best of the year, and will lift some of the criticism from the 32-year-old from Avignon, France. Today's four championship points more than doubles the three points that Alesi had earned through the five grand prix already completed. The latest issue of Autosport, the British racing magazine, reports that Alesi will be axed at year's end by Benetton racing.
Also earning points today were Britain's Johnny Herbert and Coulthard, who hasn't registered a championship point since his season-opening victory in the Australian Grand Prix.
The Spanish Grand Prix consisted of 64 laps around the 2.936-mile Circuit de Catalunya. The total time of the event was one hour, 30 minutes and 35.896 seconds, with the fastest lap going to Giancarlo Fisichella of Italy at 206.960 kilometers per hour.
The event was the sixth of 17 events in the Formula One World Driving Championship. The next event is the Canadian Grand Prix in Montreal on June 15th.
Final Results
1. Jacques Villeneuve, Canada, Williams-Renault 1 hour, 30 minutes, 35.896 seconds, 64 laps, 124.3 mph.
2. Olivier Panis, Prost Mugen-Honda, 5.804 seconds behind, 64.
3. Jean Alesi, France, Benetton-Renault, 12.534, 64.
4. Michael Schumacher, Germany, Ferrari, 17.979, 64.
5. Johnny Herbert, Britain, Sauber-Petronas, 27.986, 64.
6. David Coulthard, Britain, McLaren-Mercedes, 29.744, 64
7. Mika Hakkinen, Finland, McLaren-Mercedes, 48.785, 64.
8. Heinz-Harald Frentzen, Germany, Williams-Renault, 1:04.139, 64.
9. Giancarlo Fisichella, Italy, Jordan-Peugeot, 1:04.767, 64.
10. Gerhard Berger, Austria, Benetton-Renault, 1:05.670, 64.
11. Jos Verstappen, Netherlands, Tyrrell-Ford, 63.
12. Eddie Irvine, Ireland, Ferrari, 63.
13. Jan Magnussen, Denmark, Stewart-Ford, 63.
14. Gianni Morbidelli, Italy, Sauber-Petronas, 62.
15. Jarno Trulli, Italy, Minardi-Hart, 62.
Not classified
16. Pedro Diniz, Brazil, Arrows-Yamaha, 53.
17. Ralf Schumacher, Germany, Jordan-Peugeot, 50
18. Rubens Barrichello, Brazil, Stewart-Ford, 37.
19. Mika Salo, Finland, Tyrrell-Ford, 35.
20. Shinji Nakano, Japan, Prost Mugen-Honda, 34.
21. Damon Hill, Britain, Arrows-Yamaha, 18.
22. Ukyo Katayama, Japan, Minardi-Hart, 11.