Monaco Grand Prix
May 11, 1997 - Circuit de Monaco - Monte Carlo, Monaco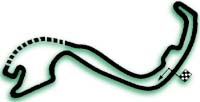 Olivier Panis 1996 Winner

Past Winners
95-Schumacher
94-Schumacher
93-Senna

Schumacher wins on a sloppy track
Michael Schumacher ran a brilliant wet weather race to claim his fourth Ferrari win, his 23rd win overall. Rubens Barrichello finished an excellent second for the Stewart team, with the in form Eddie Irvine making it another great day for Ferrari.
Last year's winner Olivier Panis came home fourth, with Salo scoring Tyrrell's first points of 1997 in 5th. The Jordan of Fisichella rounded up the points.
The race started in wet conditions, with most drivers opting for intermediate tires. The exception being the two Williams drivers, initially Frentzen was third and Villeneuve was fifth, by lap 3 they were out of the points and slipping back at an alarming rate. Villeneuve came in for wet tires on lap 4, Frentzen following him on lap 6.
The rate at which cars retired was fairly brisk early on, with Diniz, Coulthard, Hakkinen and Hill going out in the first two laps. Diniz failed to get round the first lap, while the two McLarens and the other Arrows went out on lap 1.
Early on things looked good for Jordan, when Fisichella and Ralf Schumacher were running 2nd and 3rd. Schumacher then spun dropping places and Barrichello got past Fisichella. Ralf Schumacher then passed his team mate and Herbert began to close until he too went out of the race. By lap 16, Michael Schumacher had built up a commanding lead, Barrichello was running a strong second, Fisichella found himself back up in third followed very closely by Panis, then Irvine and Salo.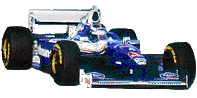 Villeneuve came into the pits again on lap 17 and retired from the race while Frentzen was still struggling in 9th place. Schumacher pitted on lap 32 and the rain started to get a bit heavier again. Panis finally squeezed past Fisichella after lap upon lap of pressure, the Italian seemed a bit unsettled by Panis finally getting past and Irvine managed the same feat moments later.
Lap 36 saw Williams and Frentzen endure the spectacle of the lead Ferrari lap 9th placed Frentzen. Shortly after this, Panis, Frentzen and Barrichello pitted for tires. Williams miserable race ended on lap 41 when Frentzen hit the barrier, damaged his front wheel and retired from the race.
As the rain eased off slightly Irvine came into the pits and rejoined the race ahead of Panis. This left Schumacher leading Barrichello, Irvine, Panis, Salo and Magnussen. Magnussen then lost control in the chicane after the tunnel and Fisichella moved into sixth place.
On lap 47 it looked like they would all finish in that order, then Salo damaged the front wing on his Tyrrell, only slightly and he managed to keep running, then on lap 50 Schumacher ran wide, leaving the circuit. He rejoined, still in the lead, he managed to keep the engine running and rejoined after only losing ten seconds. They finished in the same order, Schumacher, Barrichello, Irvine, Panis, Salo and Fisichella.
Final Results
1. Michael Schumacher (German), Ferarri
2. Rubens Barrichello (Brazil), Stewart-Ford, 53.306 seconds behind
3. Eddie Irvine (Britain), Ferrari, 1:22.108 behind
4. Olivier Panis (France), Prost-Mugen Honda, 1:44.402 behind
5. Mika Salo (Finland), Tyrrell-Ford, 1 lap behind
6. Giancarlo Fisichella (Italy), Jordan-Peugeot, 1 lap behind
7. Jan Magnussen (Denmark), Stewart-Ford, 1 lap behind
8. Jos Verstappen (Netherlands), Tyrrell-Ford, 2 laps behind
9. Gerhard Berger (Austria), Benetton-Renault, 2 laps behind
10. Ukyo Katayama (Japan), Minardi-Hart, 2 laps behind

Time of Race: 2 hours, 5.654 seconds

Race speed: 104.264 kilometers per hour/ 64.7 miles per hour

Fastest lap: 106.937 kph/ 66.3 mph by Michael Schumacher

Not Classified

Heinz-Harald Frentzen (Germany), Williams-Renault
Shinji Nakano (Japan), Prost-Mugen Honda
Nicola Larini (Italy), Sauber-Petronas
Jean Alesi (France), Benetton-Renault
Jacques Villeneuve (Canada), Williams-Renault
Ralf Schumacher (Germany), Jordan-Peugeot
Johnny Herbert (Britain), Sauber-Petronas
Jarno Trulli (Italy), Minardi-Hart
David Coulthard (Britain), McLaren-Mercedes
Mika Hakkinen (Finland), McLaren-Mercedes
Damon Hill (Britain), Arrows-Yamaha
Pedro Diniz (Brazil), Arrows-Yamaha

NOTE: The grand prix was scheduled for 78 laps but only 62 circuits were completed within the two-hour time limit.