Hungarian Grand Prix
August 10, 1997 - Hungaroring - Budapest, Hungary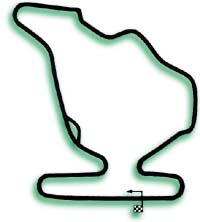 Jacques Villeneuve 1996 Winner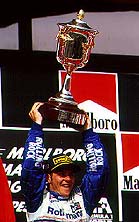 Past Winners
95-Hill
94-Schumacher
93-Hill

Villeneuve snatches victory from Hill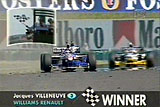 Jacques Villeneuve reduced double world champion Michael Schumacher's title lead to three points on Sunday when he snatched victory from Briton Damon Hill on the last lap of the Hungarian Grand
Prix.
The Canadian Williams driver overtook Hill after the defending world champion had led for most of the race and seemed poised to give the long-struggling Arrows team their first victory in 20 years of Formula One motor racing.
Hill's car had developed throttle problems on the penultimate lap but

he hung on for second place, with Briton Johnny Herbert in a Sauber third.
Villeneuve's victory was his fifth this year and the ninth of his career and lifted him to 53 points in the world title race. Schumacher, fourth for Ferrari, leads with 56.
Schumacher's 22-year-old younger brother Ralf finished fifth in a Jordan ahead of Japanese Shinji Nakano in a Prost.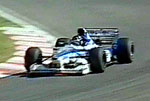 The result was a huge disappointment for Hill's fans as he led the race from the 11th lap to the last except for four laps when Villeneuve's Williams team mate German Heinz-Harald Frentzen snatched the lead.
Frentzen retired after 29 laps with what looked like engine problems and he was joined on the sidelines by both McLaren drivers Briton's David Coulthard and Finn Mika Hakkinen.
Only half of the 22-car field completed the race and, with six of the 17 races on this year's calendar
remaining, the championship is likely to remain a close contest all the way to the final race at Jerez in
Spain in October.
RACE RESULTS
1. Jacques Villeneuve (Canada), Williams-Renault, one hour, 45 minutes
and 47 seconds, 107.681 miles per hour/173.295 kilometers per hour
2. Damon Hill (Britain), Arrows-Yamaha, -9.079 seconds
3. Johnny Herbert (Britain), Sauber-Petronas, -20.445
4. Michael Schumacher (Germany), Ferrari, -30.501
5. Ralf Schumacher (Germany), Jordan-Peugeot, -30.715
6. Shinji Nakano (Japan), Prost-Mugen Honda, -41.512
7. Jarno Trulli (Italy), Prost-Mugen Honda, -1.15:552
8. Gerhard Berger (Austria), Benetton-Renault, -1.16:409
9. Eddie Irvine (Britain), Ferrari, did not finish
10. Ukyo Katayama (Japan), Minardi-Hart, one lap
11. Jean Alesi (France), Benetton-Renault, one lap
12. Tarso Marques (Brazil), Minardi-Hart, two laps
13. Mika Salo (Finland), Tyrrell-Ford, two laps
Not Classified
--------------
David Coulthard (Britain), McLaren-Mercedes
Jos Verstappen (Netherlands), Tyrrell-Ford
Pedro Diniz (Brazil), Arrows-Yamaha
Giancarlo Fisichella (Italy), Jordan-Peugeot
Heinz-Harald Frentzen (Germany), Williams-Renault
Rubens Barrichello (Brazil), Stewart-Ford
Mika Hakkinen (Finland), McLaren-Mercedes
Gianni Morbidelli (Italy), Sauber-Petronas
Jan Magnussen (Denmark), Stewart-Ford
Fast lap: Frentzen, 113.257 miles per hour/182.269 km