German Grand Prix
July 27, 1997 - Hockenheim ring - Hockenheim, Germany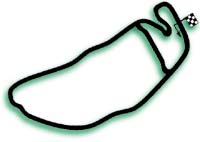 Damon Hill 1996 Winner

Past Winners
95-Schumacher
94-Berger
93-Prost

Gerhard Berger wins German Grand Prix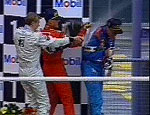 Austrian Gerhard Berger's return to racing after a three-week absence was a triumphant one, as he captured today's Formula One German Grand Prix at the Hockenheimring in Hockenheim, Germany.

The 37-year-old Berger, who led the field from the pole position, had missed three races due to a sinus operation and the death of his father, but he came back strong today, guiding his Renault to his second German Grand Prix victory in the 45-lap race. Berger, the 1994 champion, announced Thursday he would be leaving Team Benetton after this season.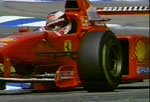 Crowd favorite Michael Schumacher, the 1995 champion, finished second in his Ferrari but more importantly, gained six points in the race for the Formula One Driving Championship and leads Canada's Jacques Villeneuve by 10 points.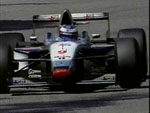 Finland's Mika Hakkinen posted his first podium finish since last year's Australian Grand Prix by finishing third for McLaren. Italy's Jarno Trulli placed fourth for Prost; Ralf Schumacher was fifth for Jordan; and Berger's Benetton teammate, Frenchman Jean Alesi, finished sixth.
Italy's Giancarlo Fisichella of Italy, who Benetton signed this week to replace Berger, was in second place with six laps remaining before suffering a punctured tire in his Jordan-Peugeot.
It was a bad day for the Williams-Renault racing team, as Villeneuve, who won the British Grand Prix two weeks ago, and Germany's Heinz-Harald Frentzen both had to drop out of the race. Williams-Renault was seeking its fifth victory in seven years at this race.
Finish
Name
Team
Time
1
Gerhard Berger (Austria)
Benetton
1:20:59:046
2
Michael Schumacher (Germany)
Ferrari
17.527 seconds behind
3
Mika Hakkinen (Finland)
McLaren
24.770 seconds
4
Jarno Trulli (Italy)
Prost
27.165
5
Ralf Schumacher (Germany)
Jordan
29.995
6
Jean Alesi (France)
Benetton
34.717
7
Shinji Nakano (Japan)
Prost
1:19.722
8
Damon Hill (Britain)
Arrows
one lap
9
Norberto Fontana (Argentina)
Sauber
one lap
10
Jos Verstappen (Netherlands)
Tyrrell
one lap
not classified (did not finish)
11
Giancarlo Fisichella (Italy)
Jordan
40 laps completed
12
Jacques Villeneuve (Canada)
Williams
33
13
Rubens Barrichello (Brazil)
Stewart
33
14
Mika Salo (Finland)
Tyrrell
33
15
Jan Magnussen (Denmark)
Stewart
27
16
Ukyo Katayama (Japan)
Minardi
23
17
Johnny Herbert (Britain)
Sauber
8
18
Pedro Diniz (Brazil)
Arrows
8
19
David Coulthard (Britain)
McLaren
1
20
Heinz-Harald Frentzen (Germany)
Williams
1
21
Eddie Irvine (Britain)
Ferrari
1
22
Tarso Marques (Brazil)
Minardi
0
Fastest lap: Berger one minute 45.747 seconds (average speed 232.278kph)