Brazilian Grand Prix
March 30th, 1997 - Interlagos - Sao Paolo, Brazil
1996 Winner Damon Hill

Past Winners
95-Schumacher
94-Schumacher
93-Senna
Villeneuve beats the boys in Brazil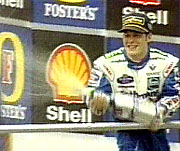 World championship favourite Jacques Villeneuve of Canada rubbed out the disappointment of his early exit from the season-opening Australian Grand Prix when he cruised to victory in the re-started Brazilian race at Interlagos on Sunday.
Villeneuve, driving a Williams, easily won despite nearly missing the race altogether after a disastrous start which saw him career off the track. Four other cars followed Villeneuve, forcing officials to re-start the race.
The second time around the Canadian took the lead at the end of the first lap of the race and, apart from three laps during the pit stops, stayed there all the way to the chequered flag.
His solid victory lifted him to the top of the drivers' championship standings with 10 points alongside Briton David Coulthard who won the Melbourne race for McLaren.
Villeneuve, 25, came home 4.1 seconds ahead of Austrian Gerhard Berger in a Benetton. Frenchman Olivier Panis grabbed third place and a first podium finish for the new Prost team and their new Japanese tire suppliers Bridgestone. It was Villeneuve's fifth victory in his 18th grand prix and leaves him only one win short of his legendary father Gilles's total of six wins.
Mika Hakinen of Finland, in a McLaren, came home fourth, Michael Schumacher of Germany driving a Ferrari was fifth and Frenchman Jean Alesi, in a Benetton, finished sixth.
Villeneuve, however, was fortunate to win the race as he had survived a scare earlier when he went off in a multiple collision at the first corner following the first start. The race was red-flagged to a halt and erased from the record -- saving Villeneuve the embarrassment of first corner exits at the two opening races of the year.
The Canadian appeared to be forced wide by Schumacher as they went into the opening bend. He had started from pole position but was unable to take advantage and careered wide across the gravel track through the downhill Senna curve where he was followed by four other cars.
When the race re-started, Villeneuve again was unable to take the lead from pole position. Twice world champion Schumacher took the initiative in his Ferrari until the end of the opening lap when the Canadian passed him under braking. From then on, Villeneuve remained in command and only conceded the lead for three laps following his second pit stop before easing his way to the finish.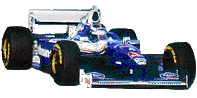 Villeneuve returned to the track after his early first corner departure and his car was relatively undamaged. For him, it was a lucky day but he rode his good fortune to claim a victory that gives him and the Williams team a great chance of pressing home their advantage at the Argentine Grand Prix in two weeks' time.
Results from Sunday's Brazilian Grand Prix
Over 72 laps on the 4.325-kilometre Jose Carlos Pace circuit, with driver, country, make of car, time and winner's average speed in kilometers an hour:
1. Jacques Villeneuve, Iberville, Que., Williams-Renault, one hour 36 minutes 6.990 seconds, 192.905 kilometers an hour
2. Gerhard Berger, Austria, Benetton-Renault, 1:36.11.180
3. Olivier Panis, France, Prost-Mugen Honda, 1:36.22.860
4. Mika Hakkinen, Finland, McLaren-Mercedes, 1:36.40.023
5. Michael Schumacher, Germany, Ferrari, 1:36.40.721
6. Jean Alesi, France, Benetton-Renault, 1:36.41.010
7. Johnny Herbert, Britain, Sauber, 1:36.57.902
8. Giancarlo Fisichella, Italy, Jordan-Peugeot, 1:37:07.629
9. Heinz-Harald Frentzen, Germany, Williams-Renault, 1:37.22.392
10. David Coulthard, Britain, McLaren-Mercedes, 71 laps.
11. Nicola Larini, Italy, Sauber, 71 laps
12. Jarno Trulli, Italy, Minardi-Hart, 71 laps
13. Mika Salo, Finland, Tyrrell-Ford, 71 laps
14. Shinji Nakano, Japan, Prost-Mugen Honda, 71 laps
15. Jos Verstappen, Netherlands, Tyrrell-Ford, 70 laps
16. Eddie Irvine, Britain, Ferrari, 70 laps
17. Damon Hill, Britain, Arrows-Yamaha, 68 laps
18. Ukyo Katayama, Japan, Minardi-Hart, 67 laps

Not classified

Ralf Schumacher, Germany, Jordan-Peugeot, 52 laps
Rubens Barrichello, Brazil, Stewart Ford, 16 laps
Pedro Diniz, Brazil, Arrows-Yamaha, 15 laps
Jan Magnussen, Denmark, Stewart Ford, DNS