Argentine Grand Prix
April 13, 1997 - Municipal Autodrome - Buenos Aires, Argentina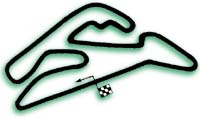 1996 Winner Damon Hill
Past Winners
95-Hill
81-Piquet
80-Jones
Argentina cheers for Villeneuve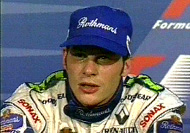 Canadian Jacques Villeneuve held off a charge from Eddie Irvine of Northern Ireland to win today's 72-lap Formula One Argentine Grand Prix at the 2.646-mile Autodromo Oscar Galvez in Buenos Aires.
Villeneuve's lead of more than 22 seconds evaporated quickly after Villeneuve made his third pit stop, and Irvine ran his Ferrari right on the tail of Villeneuve's Williams-Renault. Irvine closed to within half a second of Villeneuve and was completing the circuit faster than Villeneuve, but couldn't get by the series points leader.
First-year driver Ralf Schumacher of Germany, the younger brother of series superstar Michael Schumacher, finished third in only his third Formula One start, followed by Britain's Johnny Herbert, Finland's Mika Hakkinen and Austria's Gerhard Berger.
Villeneuve drove a magnificent race, leading right from the start and showing how dominant the Williams car is by running away from challengers throughout the race. But the car seemed to get a bad set of tires during that final stop and Villeneuve was apparently suffering physically from a case of dehydration that has plagued him throughout the weekend.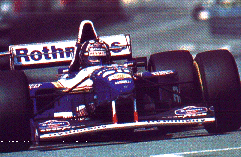 Irvine, who has openly feuded with Villeneuve in recent weeks as the French Canadian and others on the circuit have criticized Irvine's tactics, was provided with a showcase for his talent when his teammate, Michael Schumacher, was knocked out of the race on the first lap. In fact, most of the top challengers dropped as that first lap wreck collected Rubens Barrichello of Brazil and Scotsman David Coulthard, taking out three of Villeneuve's potential challengers.
Fingers pointed to Irvine, a flamboyant figure off the track, for causing a wreck at the start of the Australian Grand Prix and then Irvine finished poorly in Brazil. The situation fueled rumors that Irvine would be swapped to the Jordan team for Italian Giancarlo Fisichella or to Tyrrell for promising Finn Mika Salo. But today's results bode very well for Irvine.
Ralf Schumacher gave Jordan, running in its 100th grand prix, its first podium in two years. The last podium for Jordan came in the 1995 Canadian Grand Prix when Barrichello and Irvine finished second and third.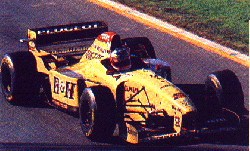 Despite his success, the young Schumacher ended the day of his teammate Fisichella, who was also enjoying a strong run. The duo ended up running side-by-side in a turn when the serpentine-painted car of Fisichella was spun backwards into a gravel runoff.
Frenchman Olivier Panis looked to have a great shot at giving team owner Alain Prost and Bridgestone a first victory, but mechanical problems on his Prost-Mugen Honda eliminated Panis early.
The win gives Villeneuve his first outright lead in pursuit of the Formula One championship as he holds a 10-point margin over Berger and Coulthard. The win is also the sixth of his career, drawing the 25-year-old even in grand prix titles with his late father and Ferrari icon Gilles Villeneuve.
The Argentine Grand Prix is the third of 17 races in the Formula One series. The next event is the San Marino Grand Prix at Imola, Italy on April 27th.
Result of Sunday's Argentine Grand Prix motor race:
Race distance: 72 laps (306.502 kms)
1. Jacques Villeneuve (Canada) Williams winning time one hour, 52 minutes and 1.715 seconds (average speed 164.155 kph)
2. Eddie Irvine (Britain) Ferrari 0.979 seconds
3. Ralf Schumacher (Germany) Jordan 12.089
4. Johnny Herbert (Britain) Sauber 29.919
5. Mika Hakkinen (Finland) McLaren 30.351
6. Gerhard Berger (Austria) Benetton 31.393
7. Jean Alesi (France) Benetton 46.359 8. Mika Salo (Finland) Tyrrell 1 lap
9. Jarno Trulli (Italy) MInardi 1 lap
10. Jan Magnussen (Denmark) Stewart 6 laps
Did not finish (not classified)
11. Nicola Larini (Italy) Sauber 63 laps completed
12. Pedro Diniz (Brazil) Arrows 50
13. Shinji Nakano (Japan) Prost 49
14. Jos Verstappen (Netherlands) Tyrrell 43
15. Ukyo Katayama (Japan) Minardi 37
16. Damon Hill (Britain) Arrows 33
17. Giancarlo Fisichella (Italy) Jordan 24
18. Rubens Barrichello (Brazil) Stewart 24
19. Olivier Panis (France) Prost 18
20. Heinz-Harald Frentzen (Germany) Williams 5
21. Michael Schumacher (Germany) Ferrari 0
22. David Coulthard (Britain) McLaren 0
Fastest lap: Berger 1;17.981 (174.269 kph)